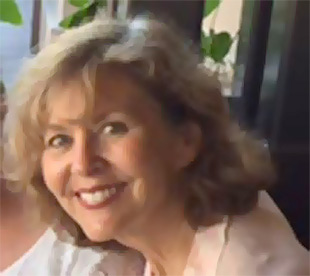 I learned to sew when I was 12 years old, through the hands of my mother. That joy led me to clothing design, which included the good fortune of my label being featured at Nordstrom, Saks Fifth Ave, Barney's of NY, and assorted small boutiques. I grew restless for new challenges so I began to work in the costume departments of The La Jolla Playhouse, The Alley Theater, UT Austin., and puppet construction with the Jim Henson Creature Shop.
Longing to create work not so tied to a commercial grid I began to experiment with embroidery as fine art.. The mystery in found photographs is a great source of inspiration for me. Sometimes I have an established idea and I seek out images that will help tell the story. Other pieces germinate from an expression on a face or position of the body. After it is printed on fabric I add the hand-embroidered illustrations, which subverts the image into a new narrative.
Graphic Design came later in life and is an equal partner to the fine art. I approach it in the same way, as a story. Working in the world of television and film graphics affords a stimulating variety of challenges and themes. I love the research process for both the fine art and graphic design.
Creativity has guided me to parts of myself that I would not discover any other way and for that I am truly grateful.